Double state of emergency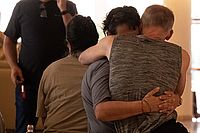 The deadly Hamas attacks are heavily impacting our partners in Israel. We talked to Guy Shalev, Director of Physicians for Human Rights, about the situation and their work with survivors.
medico: What is the situation in Gaza?
Chris Whitman: As of the latest figures by Thursday afternoon, 1,448 people have been killed by airstrikes and shelling in Gaza, most of them civilians, we must assume. The Israeli army has cut off electricity, fuel, and water supplies to the Strip in an unprecedented act of enforcing a total blockade, not even letting in any humanitarian supplies, no food, no medicine, nothing. The only power plant in Gaza ran out of fuel Wednesday afternoon, so that people will eventually not even be able to communicate to the outside world anymore.
What this means for hospitals, for intensive care, surgery, neonatal etc. units, just imagine the calamity that will ensue. For victims affected by bombardment, with shrapnel injuries, torn off limbs etc., this could well mean that people are going to die in large numbers from injuries that otherwise would not necessarily have been mortal. Disease will spread like wildfire in one of the most densely populated places on earth, all the while being bombarded from land, air, and sea. The director of Shifa, the largest hospital in Gaza, said that they have fuel left for their generators for another two, maximum three days. Afterwards, he said, the hospital is going to turn into a morgue.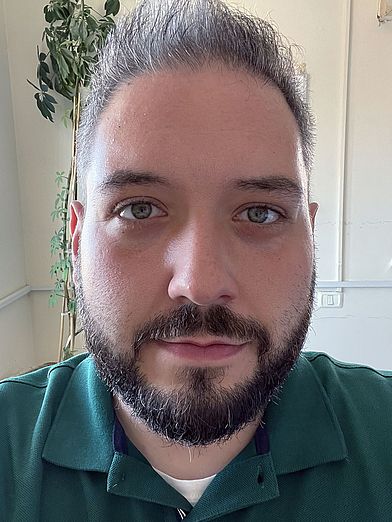 How are our partners in Gaza? How do you keep in contact with them?
When the airstrikes on Gaza began, I started contacting our partners to make sure they were ok. This always goes along with the hurtful question, "what if they don't answer.". There are no safe spaces in Gaza. The first person I messaged was Bassam Zaqout from our partner Palestinian Medical Relief Society. He's a doctor turned project coordinator with whom we have been working for many, many years, currently in a large BMZ-funded project for a chronic disease center in Gaza.
Our joint work there usually focuses on patients with conditions like hypertension, diabetes, etc. We have also repeatedly organized humanitarian aid during previous wars. Bassam and I have both a professional and personal relationship. After about 15 minutes of thinking the worst, I finally received a message back: "I'm home, under the bed with my wife and kids, it is non-stop bombing, it is very difficult right now." He messaged me today that he and his family are running out of drinking water and that it will be extremely difficult to find any. They're currently recycling water and relying on Coca Cola for drinking to preserve what little water they have left.
Majeda Al-Saqqa from the feminist Culture and Free Thought Association in Khan Younis said: "We are alternating between my house and my sister's house depending where the bombing is heavier. We stay huddled (8-12 people) on the ground floor, in one room, all together." You know how remarkable a person Majeda is, how she sticks out in Gaza being the visible feminist that she is with her short hair, hoody, and leather jacket. Usually also really funny, laughing a lot, talkative. She is giving life signs, but she became very monosyllabic. "The bombs keep shaking the ground," she says, "they must be using heavier bombs than usual." This is taking a heavy toll on her. On everyone in Gaza.
What are we planning?
We're now busy organizing humanitarian aid for Palestinians in Gaza and support for Israeli civilian victims who have been evacuated from the communities after the Hamas attack. PMRS has ambulance cars operating, providing first assistance to injured people and helping to evacuate them to hospitals. This is extremely difficult now because so many roads are not passable: either they are destroyed or blocked by rubble from adjacent buildings that have been bombed. It's also really, really dangerous. The Israeli army has already targeted 13 health facilities during this war and yesterday killed ten medical staff, colleagues from the Palestinian Red Crescent Society.
By now, PMRS was able to start operating so called pop-up clinics. Of course, the priority in times of war is on emergency medicine, but let's not forget that people with chronic conditions or acute infections also need medical treatment. This is mainly where the strength of PMRS lies. It's a primary health care provider. The airstrikes will put thousands of patients at risk for interruption in their ongoing treatment, both for those in Gaza and those with a medical permit to the West Bank.
Apart from the humanitarian situation and the shock, how do our partners analyse the situation?
For our Palestinian partners, it was clear that the Israeli response would be the beginning of a brutal military campaign against the enclave. We all know that this war will not destroy Hamas nor is that really the goal when conducting mass airstrikes against Gaza. The people there know this very well. All of Palestine will see this as nothing else than a very mortal punitive expedition. And this corresponds to what Israeli officials including the Prime Minister and the Army Spokesperson have announced this was going to be: revenge and destruction. We're exploring our options for emergency medical deliveries to the Gaza Strip. For now, there is no humanitarian access. This is a war crime. But we want to be ready for when there is a chance to get relief into Gaza.
Our partners in Israel were absolutely shocked by the Hamas massacre, of course. All of them are deeply saddened. But they also started acting: Our partner organization Physicians for Human Rights – Israel is providing medical care to people evacuated from the Israeli communities that have been attacked. We're supporting them providing these services.
What do they think about the Israeli reaction to the massacre?
You have to understand that they live in a country where a majority of the population had elected an extremist right-wing government. A government all our partners stand against. Even without a mass killing by Hamas fueling the people's anger, anti-Palestinian sentiment is extremely strong and also the rejection of any Israeli anti-occupation activities and activists.
So, after the onslaught in the Israeli communities with around 1,200 dead, thousands injured and about 150 people abducted, our partners' calls for restraint vis-à-vis the Palestinians may well alienate them from a significant portion of their own society. It should be noted that many Israeli organizations are calling for the release of the hostages by all peaceful means necessary, no matter the cost. While expressing their horror and shock about the killings by Hamas, they call on the public and the government not to punish the people of Gaza. Close to 50 percent there are younger than 16.
The interview was conducted by Riad Othman.
You can support the help of our partner organizations in Israel and Palestine with a donation.