Under shock and under bombs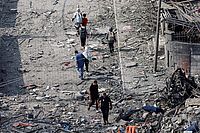 Due to heavy bombardments our partners in Gaza are not in a position to give an interview. Therefore, we spoke with Chris Whitman, our Representative in Palestine and Israel who is in regular contact with them.
medico: What is the situation in Israel after the Hamas attacks like for you?
Guy Shalev: First of all, we are all devastated. Every person I know knows someone who was murdered or killed, abducted or injured. Israel is a very small country with strong family and community ties. When more than 1,000 people are murdered, everywhere feels it.
Add to that the threat that people continue to face. For instance, we moved into my parents´ house because we don't have a proper air raid shelter ourselves. It's a similar situation for other PHRI staff. We have people stuck in London and Denmark. One colleague went to Cyprus because she couldn't find anywhere safe for her and her family. Initally she went to her parents in the north, but when it became too unsafe there because of its proximity to Lebanon, she left the country with her child for the time being.
In the centre of Israel we have at least one siren a day because of rocket strikes from the Gaza Strip. We keep having to run to the shelters. In the south, this is far more frequent. As you know I have a young daughter. My partner is pregnant, too, which of course is an additional worry in the current situation. Back before we had children we would have just stayed put if there were rockets being fired.
And what about your colleagues at PHRI? What is the situation like for you all and what does the situation mean for you as an organisation?
Our staff is Jewish-Israeli and more than one third is Palestinian. Many of our volunteers are Palestinian health workers. So our experience of what's happening is very complex and outside of work we are involved in different realities: Jewish Israelis are mourning the victims of Saturday's Hamas attacks, Palestinians are extremely worried about their relatives and communities in Gaza.
Our Jewish colleagues are mainly getting the horrific videos of the events in southern Israel in their feeds, whilst our Palestinian colleagues are confronted with the horrific images from Gaza. And as close as we are, as much as we are colleagues and work together, these networks are pretty different. We are together, but at the moment we are living with very different consciousnesses.
You have unequivocally condemned the crimes of Hamas. In another statement, you also deplored what the Israeli army is currently doing, which has been characterised by different officials and politicians as a campaign of revenge. How do you think Israeli society sees your position?
Right now it is a huge challenge as a human rights organisation to speak with a clear voice based on human rights without falling into bothsideism. Each side is responsible for its actions and should be held accountable for its crimes. The crimes of one side cannot justify the crimes of the other side.
Following the mass killings by Hamas, there is little to no willingness in Israeli society to "show mercy", as some have put it, or even to merely recognise the right of Palestinian civilians in Gaza to a minimum amount of protection.
In the socio-political climate in Israel in recent years, and even more so since this far-right government has been in power, the climate towards organisations like ours and towards anti-occupation activists was already very hostile. Since 7 October it has become even more difficult, but as a human rights organisation we want, must and will uphold certain principles.
You are not just a human rights organisation, you are also a medical aid organisation with specific programmes providing health services. In the past, medico has repeatedly supported your humanitarian projects, including the delivery of emergency medicines to Gaza or mobile clinics in the occupied West Bank. What are you doing now?
We are currently working in Israel with the victims of the Hamas attacks. We are supporting people who were attacked in communities in the south of Israel and have fled. Several thousand people are sheltering in hotels in the south, in Eilat and near the Dead Sea. Others are staying with their families across the country.
There are also at least 1,000 Thai agricultural labourers who were migrant workers in the agricultural sector in the communities hit. They were also forced to flee and suffered the same tragedy. But they are not housed in hotels, but in big hangars, and some of them have to change locations all the time. This is really disgraceful. The fact that they are not receiving the same kind of support as the people they lived with in the same communities, as their neighbours and employers, there is no other reason than the racism they already faced before.
We provide people with medicines to treat chronic diseases, acute infections and for other complaints. There are some cases of injuries that do not require hospitalisation, where our staff assist in treating the wound. Some people need psychiatrically prescribed medication that is hard for them to get where they are now.
But we also take care of people suffering from anxiety or who need sleeping pills after the horrific experiences while they are in this harsh and acute traumatic situation. Others, who are specialised in this, provide psychosocial and psychological support.
Like PHRI's services, most of these services are offered by qualified volunteers, as the government is still not responding adequately to the needs of those impacted. But for us, though, our main concern here is the provision of basic health care. If these needs are not met, the situation of those impacted may get worse.
How can it be that the care provided by the state is insufficient in a country like Israel? Why does an organisation like PHRI need to get involved?
The question is understandable. Many people feel that Israel let these people down before when it neglected their safety in the towns and villages near Gaza and could not protect them for hours while Hamas committed its crimes. I understand that the authorities wanted to put people in as safe a place as possible, where there are no air raid sirens, so that they don't have to run to the shelters every few hours. That's something they really don't need after everything they have been through. About 3,000 people have been housed in hotels by the Dead Sea. This is a safe place, no rockets fly there.
But it is also not really a populated place. There are no clinics there and no infrastructure with the ability to support so many people in a situation of this kind and with their special needs. That's why we headed there immediately with volunteers and medicines. The government has also since opened a clinic, but for some people it's a challenge to travel there from their hotel to this facility. PHRI runs a small clinic right inside one of the hotels where people from Kibbutz Be'eri are staying. This was one of the communities hit hardest by the Hamas attacks.
Do you also work in Gaza?
At the moment, it's almost impossible to provide direct aid to the people in Gaza because we can't get any material there. As you know, the Israeli army has imposed a total blockade, which also includes humanitarian goods like medicine. At the moment, we are following the information issued by the Palestinian Ministry of Health and we are also in direct contact with the health administration through our contacts on the ground. So as soon as we can deliver something there, we'll appreciate any donations allowing us to bring medicines to Gaza.
We are working as hard as we can to get the international community to act and stop the horrific attacks on Gaza. We keep saying that the Hamas attack last Saturday must not be used to indiscriminately attack the two million inhabitants of Gaza. Revenge is not a political action plan.
The interview was conducted by Riad Othman.
You can support the help of our partner organizations in Israel and Palestine with a donation.